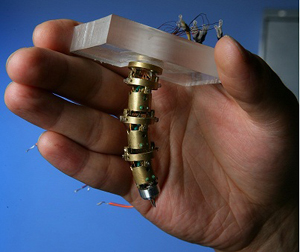 Source: NBIB

University of Maryland
Zombies aren't the only creatures that like to munch on brains. Robot maggots have recently acquired the taste for brains too.
At the University of Maryland School of MedicineInspired, neurosurgeon J. Marc Simard has developed a robot maggot prototype that can devour dead tissue. While the robot doesn't exactly "eat" the brain tumor away, it does use an electrocautery tool to zap the tumor and suction it out. And even though it's a robot, surgeons have access to complete control. This is so the surgeon can monitor the robot while the surgery is being performed, and that the patient will know that a robot isn't digging around their brain autonomously.

Source: NBIB

University of Maryland
During an MRI scan, the patient is confined to a small space. A space that surgeons can't operate in, but robo-maggot can! Since electromagnets cause interference, strings and pulleys are being used to control this parasitic-like robot. It all sounds gross, but it could save a lot of lives in the near-future!